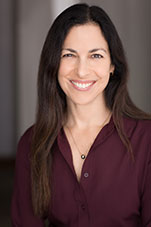 Haya Handel
Partner
Haya Handel has worked as a network and studio executive as well as a talent lawyer, which gives her a unique understanding of all sides of an entertainment deal. From motion pictures to prime-time series and cable programming, her experience spans the spectrum of media formats. Her breadth of knowledge and longstanding relationships across the industry assure her clients the best results in a competitive landscape.
Haya began her entertainment career as an attorney and business affairs executive at the Fox Broadcasting Company, where she worked on the entire range of network programming. From prime-time series such as "The X Files" and reality specials such as "The Billboard Awards" to children's programming such as "Mighty Morphin Power Rangers," Haya was at the forefront of cutting edge negotiations at the network.
Transitioning to the studio side, Haya spent several years as Vice President of Business Affairs at Touchstone Television (now ABC Studios), handling all aspects of development and production business affairs for the studio's busy slate. Handling everything from writer, literary option purchase and casting director deals to test option agreements and network license negotiations, her projects included many of Touchstone's top-rated series.
After a subsequent stint at Armstrong Hirsch representing talent, followed by a hiatus to start her family, Haya returned to the industry as Vice President of Business Affairs at A&E Networks. Representing A&E, Lifetime and the History Channel, Haya oversaw business affairs for more than one hundred television motion pictures, including "Flowers in the Attic," "Liz and Dick" and "A Trip to Bountiful". She was also an integral part of the team that established A+E Studios, producer of the hit series "Unreal". Her expertise includes substantial experience with Canadian tax incentives and ways to achieve maximum benefits under those provisions.
Haya is a graduate of UCLA and the Yale School of Law. She is a member of the California and New York Bars.
Illustrative Professional Experience
Handled business affairs for the development and production of hit television series such as "According to Jim" and "CSI," including the negotiation of all writer, producer and cast deals.
Handled the complex acquisition of television and motion picture rights to the "Flowers in the Attic" novel series, which resulted in a top-rated movie franchise for the Lifetime Network. Supervised chain-of-title review dating back nearly 40 years.
Developed and implemented A&E's template for the international license and distribution of its television motion pictures.
Handle complex rights deals in connection with the production of television movies based on public figures including Donatella Versace, Whitney Houston, Elizabeth Taylor and June Carter Cash.